PRODUCTS
| | |
| --- | --- |
| RUBBER ACCELERATOR | RUBBER ANTIOXIDANT |
product name:Rubber accelerator ZDMC

Product Category:RUBBER ACCELERATOR

Product Description:Rubber accelerator ZDMC
product manual
Specification: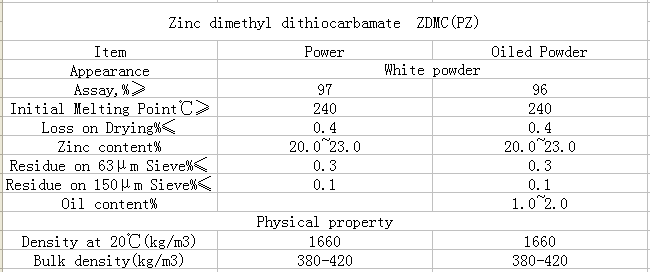 Properties:
White powder.No taste,no poison.Soluble in lower concentration alkali,CS2,benzene,acetone and CH2 Cl2,partly soluble in chloroform,insoluble in alcohol,CCl4 and ethylacetate.
Applications:
Used for NR,IR,BR,SBR,NBR,HR,EPDM and natural&synthetic latexes.Stronger accelerating powerthan TMTD.Strong resistance to scorching.In its handling,care should be operated,because of its increase activation and strong tendency to scorch atlow temperatures (100℃).Often used as a secondary accelerator.In latex,better results are obtained when used in combination with other types such as thiazole accelerators.Used for rubber coated fabrics,latex products and rubber cement,etc.FDA approved in USA.
Storage:
The product should be stored in thedry and cooling place with good ventilation,avoiding exposure of the packaged product to direct sunlight.Since the date of production,the storage period is 24 months.
Notes:
The product could be ultrafine powder based on customer accurate requirement.