PRODUCTS
| | |
| --- | --- |
| RUBBER ACCELERATOR | RUBBER ANTIOXIDANT |
product name:Rubber accelerator TiBTD

Product Category:RUBBER ACCELERATOR

Product Description:Rubber accelerator TiBTD
product manual
Applications:Light yellow crystal p o w d e r (granule). No osmyl and no taste. Soluble in benzene, acetone,CH 2CI 2,CS 2toluene, chloroform, partly soluble in alcohol and diethyl ether, insoluble in gasoline and water.
Properties:Super accelerator and vulcanizing agent for NR.IR.BR.SBR.IIIR.NBR and EPDM. Generates low level of relatively non-toxic nitrosamine, effective in latex as well as dry rubber. Cure ability is good but the strength is poor. Cure acitivity is good in the absence of sulphur.
Specifications: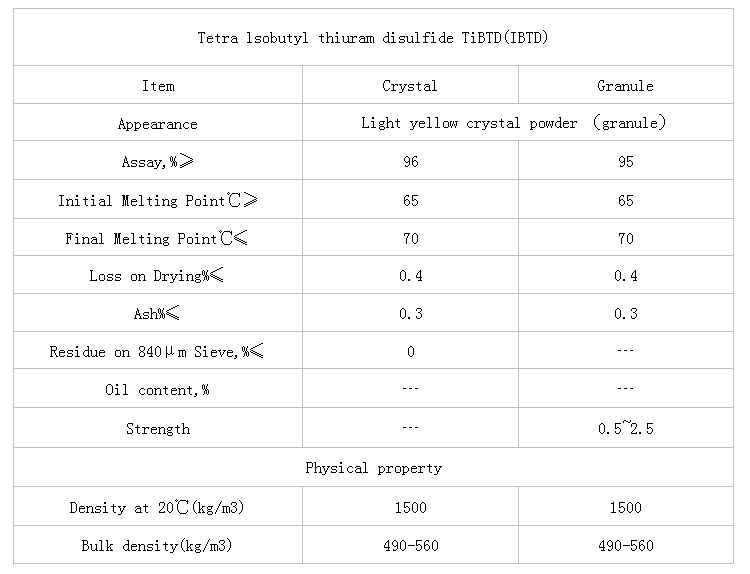 Package:25kg plastic woven bag, paper with plastic film bag. kraft paper bag.

Storage:The product should be stored in the dry and cooling place with good ventilation, avoiding exposure of the packaged product to direct sunlight. The product with pallet should not be stacked. Stacking of palletized material or temperature of above 35οC can cause unusual compacted product. Since the date of production,the storage period is 12 months.