PRODUCTS
| | |
| --- | --- |
| RUBBER ACCELERATOR | RUBBER ANTIOXIDANT |
product name:Rubber accelerator BIDMC

Product Category:RUBBER ACCELERATOR

Product Description:Rubber accelerator BIDMC
product manual
Properties:
Yellow powder. combustion temperature of 240 ℃ . Soluble in benzene,chloroform,carbon tetrachloride,carbon disulfide,insoluble in water.
Applications:
High temperature fast curling accelerator for natural rubber,synthetic rubber and latex,can be uesd for thiuram non sulfur vulcanization system,Mainly uesd in the manufacture of wire,industrial products,adhesive tape and extruded products,Also can be uesd as heat stabilizer stabillzer,halogenated rubber vulcanizates.The product has a moderate toxicity, light pollution, should not be used for white or transparent products.
Specifications: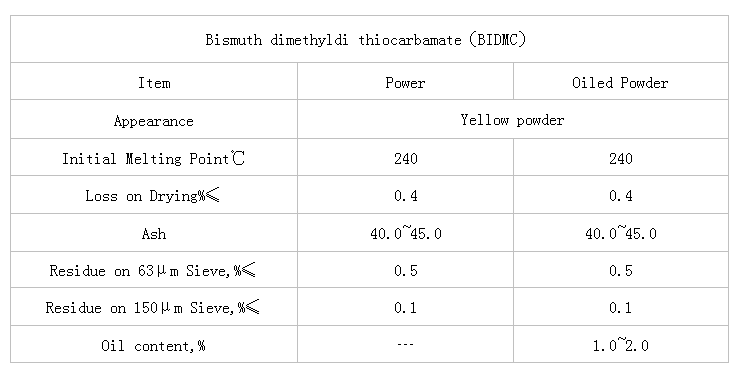 Package:25kg plastic woven bag, paper with plastic film bag, 25kg drum.
Storage:The product should be stored in the dry and cooling place with good ventilation, avoiding exposure of the packaged product to direct sunlight. Since the date of production, the storage period is 12 months.